Rent your accommodation in a natural setting in the heart of the Drôme
To better meet your needs and budget, we offer a wide variety of rental accommodations, from the economical Mini Lodge Tent for a hiking or mountain-biking stopover to the Premium 2-bedroom, 2-bathroom Cottage Suite, the ultimate in comfort for a family of 4 or 2 couples of friends! Air-conditioned mobile homes, chalets, lodge tents, Coco Sweet… there's something for everyone!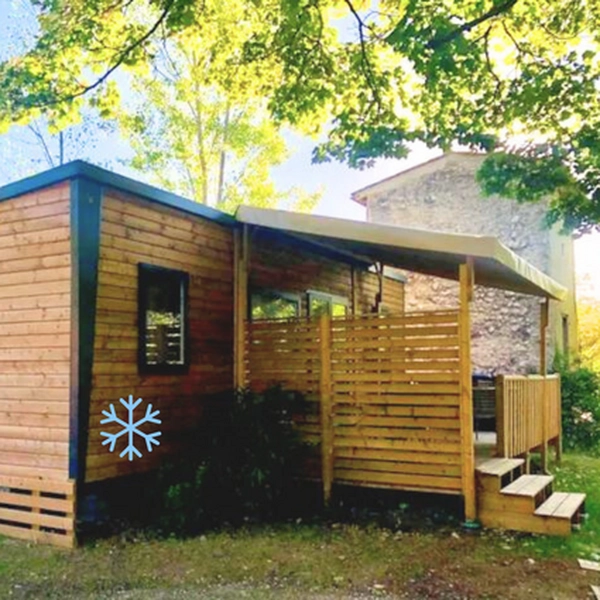 Cottage Suite Premium with airco | 2 bedrooms + 2 bathrooms
>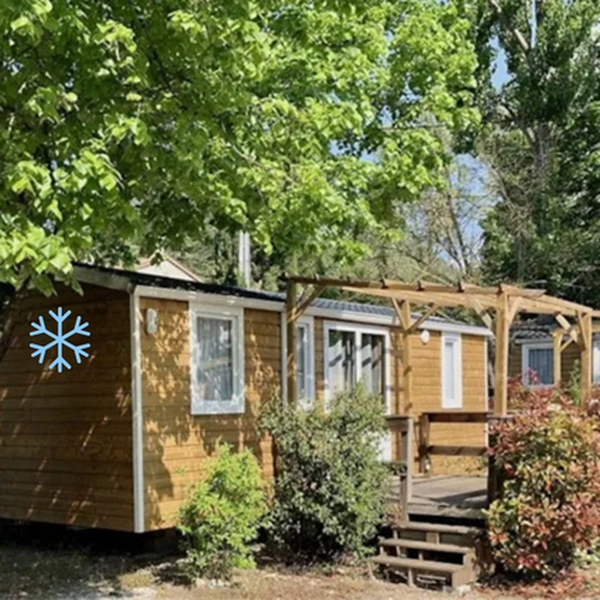 Cottage air-conditioned, all-comfort | 3 bedrooms
>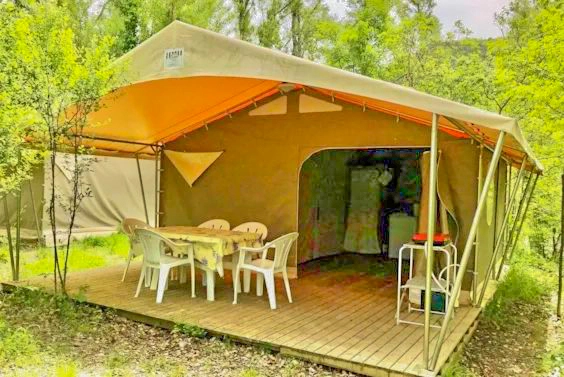 Canada Safari Tent | 2 bedrooms
>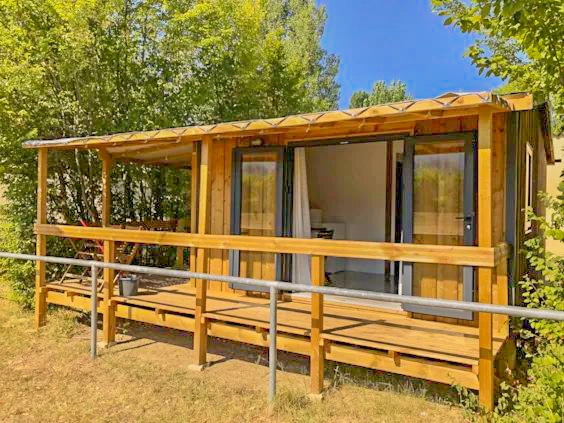 Chalet Petit'home | 2 bedrooms
>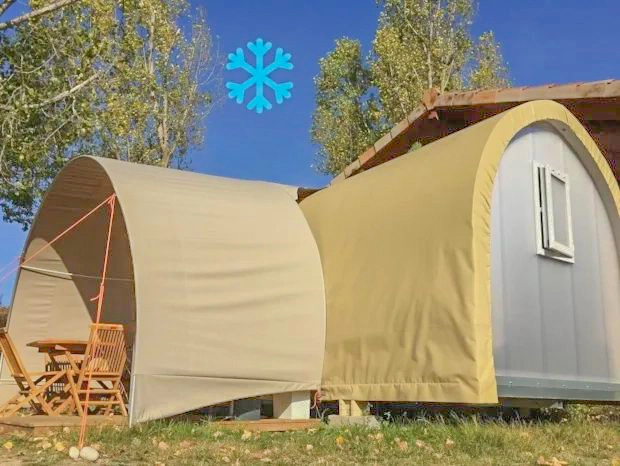 Coco Sweet + air-conditioning | 2 bedroom
>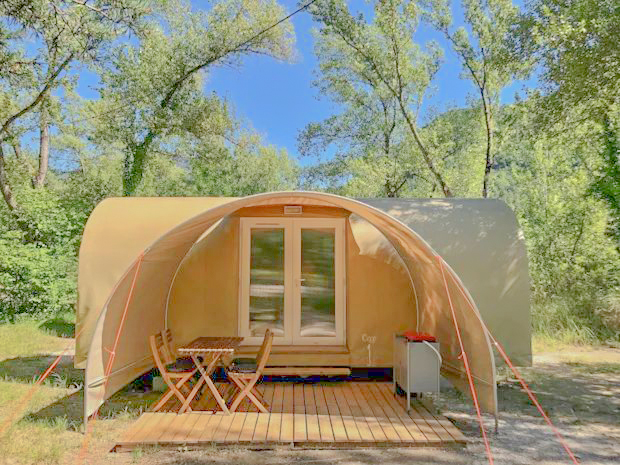 Coco Sweet | 2 bedrooms
>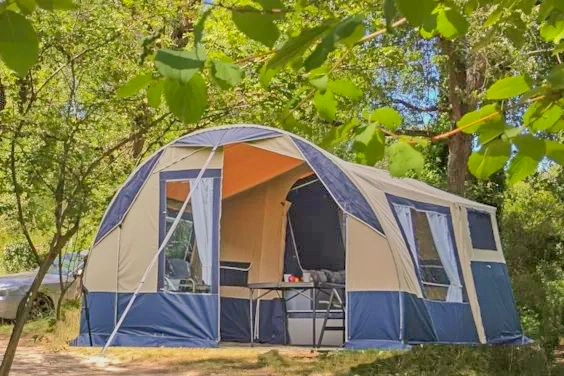 Trailer Tent La Francaise | 2 bedrooms
>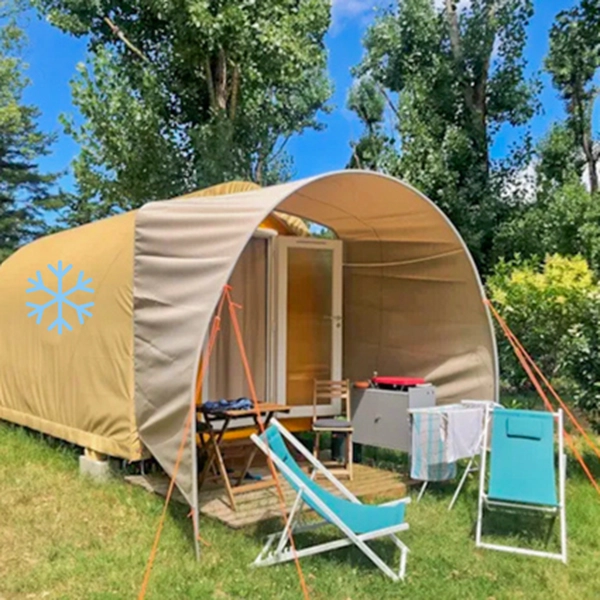 Coco Sweet + air-conditioning | 1 bedroom
>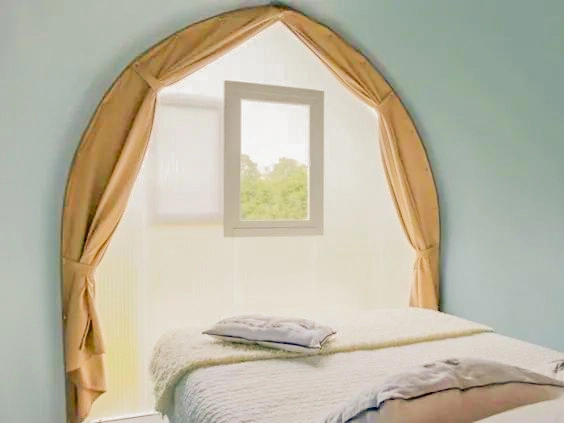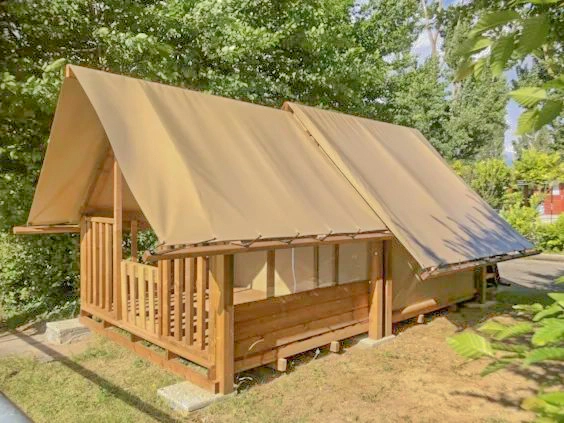 Mini Lodge Tent | 1 bedroom
>
Our comfortable mobile-home cottages in Drôme
Staying in an air-conditioned mobile-home cottage is the ideal way to get together with family or friends, enjoying the natural surroundings of Les Chapelains campsite while preserving your comfort and privacy.
Spacious (32m²), the 5 cottages for rent blend harmoniously into their surroundings with their wood cladding. They form a small village close to the snack-restaurant and shared facilities (playground, toy library, etc.), in an area planted with tall poplars and adorned with hedges.
Inside you'll find 3 separate bedrooms: 1 with a double bed 140×190 cm and 2 bedrooms with 2 single beds 80×190 cm or 70x190cm. There's a shower room with shower and washbasin, and a separate toilet.
The large living room with its bench seat is an inviting place to gather with family and friends. The kitchen is fully equipped. Pets not allowed.
Lodge tent rental at Camping Les Chapelains in Saillans
You'll discover a new way of camping in canvas accommodation, with a floor and real beds just like at home, and unlimited access to the campsite's sanitary block.
Spacious (20m²), our 2 Lodge Canada rental tents are located on a privileged wooded site overlooking the campsite, with a grassy terrace. They are fully-equipped and offer 2 bedrooms with mosquito-screen windows, blackout shutters and canvas partition walls, one with a 140×190 cm double bed, the other with 3 80×190 cm beds, 2 of which are bunk beds. The living room, with equipped kitchenette, opens onto the 12 m² covered terrace.
Rent the "La Française" canvas folding caravan
Real camping with added comfort! The La Française canvas folding caravan is a 100% French-made tent mounted on a trailer chassis. It easily accommodates 4 people, and its 230cm height ensures comfortable living. The La Française canvas folding caravan has a surface area of 17m², with two spacious double bedrooms (140x190cm).
The large 9m2 awning provides plenty of space for the living room and kitchen area, or for relaxing under the sun. It features curtains on the windows for your privacy and plenty of storage space: ideal for optimal living space! It is set up on a shady site in thewooded area near the river known as "la ramière". Pets not allowed.
The chalet to rent in Saillans
The rental Chalet Petit'home is a small, economical family accommodation, appreciated for its unobstructed view and thenatural look of its wood cladding. The 20m² space is optimized to offer you the comfort of ready-to-live-in vacation accommodation.
Both bedrooms have windows with blackout curtains. The parents' bedroom is equipped with a 140×190 cm double bed. The other bedroom has 3 beds 70×190 cm, including 1 mezzanine bed and 1 trundle bed (extra bed stored under the main bed). The living room features a kitchenette equipped with gas hob, microwave and fridge. Chalet Petit'Home has neither water nor sanitary facilities: it is located close to the campsite sanitary facilities and close to the shared facilities (snack restaurant, sanitary facilities, playground).
A double glass door opens onto the wooden terrace, on the edge of the large playground with unobstructed views of Mount Cresta. Pets not allowed.
Atypical: rent a coco sweet
Available in a 2-bedroom version for 4 or a 1-bedroom version for a couple, Coco Sweet is a new concept inunusual rentalaccommodation , functional and cozy, fun and cosy, fully equipped with bedding and kitchen facilities.
This modern-day caravan offers the comfort of a mobile home (without sanitary facilities) and a unique look with ingenious fittings. Soft light bathes the atmosphere thanks to the translucent walls at the ends.
Blackout curtains and an insulated roof let you enjoy a restful night's sleep. For your safety, Coco is closed by a real glass door.
Coco Sweet lets you travel light, with its fully-equipped kitchenette and air conditioning (depending on version). Enjoy the outdoors with its pleasant awning and outdoor table. Pets not allowed.
Comfortable cycling or hiking with the Mini Tent Lodge
Economical rental accommodation, ideal for spending a few nights hiking or mountain biking, canoeing down the Drôme or for short breaks. The Mini Tente Lodge is a half-wood/half-canvas tent with a covered terrace.
The 6m² room contains 2 single beds (70cm) with the option of an extra mattress to be placed on the floor between the two beds. A small table and chairs are set out on the 5m² terrace.
To make your camping stay as inex pensive and convenient as possible, we offer the option of electricity, a 2-burner gas stove, refrigerator and parking for your vehicle next to the Mini Tent Lodge. Pets not allowed. For an even more traditional holiday, rent a caravan site in the Drôme.
Discover our accommodations, rates and restaurant