The picturesque village of Saillans right next to the campsite
Things to do in Saillans
Welcome to Saillans! Les Chapelains campsite in the Drôme is just a 15-20 minute walk from this historic, picturesque village, bordered by the wild, free-flowing river and surrounded by exceptional scenery.
The town's history dates back to Roman times, with remains near the tourist office and in the Romanesque church of Saint-Géraud. Stroll through the labyrinth of narrow streets ("violes" in Occitan), and marvel at the medieval mansions, arches, vaulted passageways and fountains.
There's no shortage of local events: July 14 festivities, summer flea market on the 2nd Saturday in August. The village's annual"Vogue" festival traditionally takes place on the third weekend in August… Music, aubades (brass band), refreshments, dance, funfair: all the ingredients for a unique festive experience!
Family visits
The Pays de Saillans is an ideal place for nature lovers and outdoor enthusiasts, whether on the river or in the mountains.
As a family, with children or teenagers, a vacation in Saillans on the banks of the Drôme river will enable you to enjoy swimming, canoeing, mountain biking, cycling and hiking, climbing, fishing, rafting and canyoning, gliding and paragliding.
In the heart of the village, the park or public garden and the city stadium are ideal places to relax and socialize. The banks of the Drôme river are ideal for swimming or family picnics in the shade of the trees.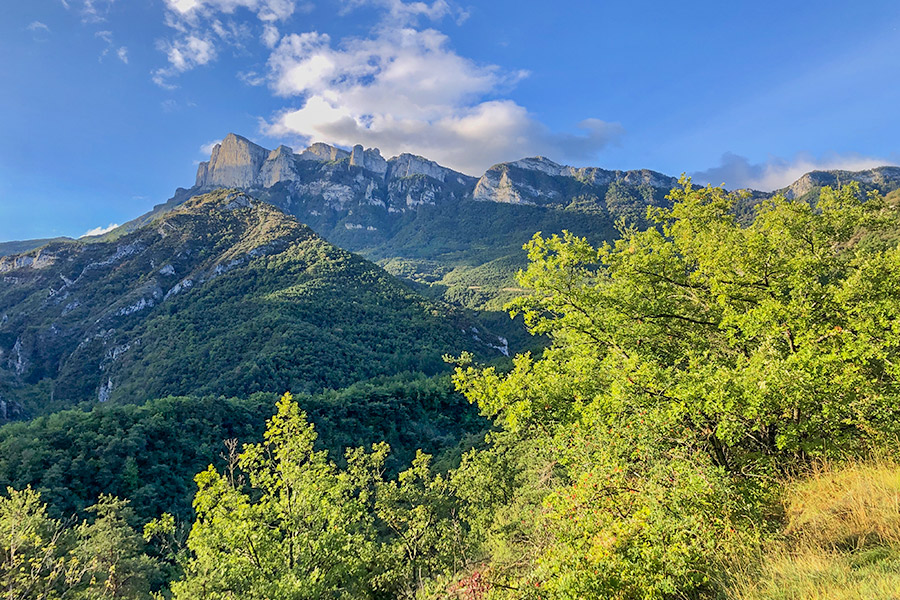 Your dream camping vacation in Saillans
Saillans is surrounded by exceptional landscapes, a priceless natural heritage that heralds the garrigues and scents of Provence.
The majestic Rochecourbe cliff (known here as "La Roche" or "La Pelle") is an irresistible eye-catcher. This geological curiosity is part of the remarkable perched syncline of Saoû, a 13 km x 3 km stone vessel formed in the Cretaceous period.
With its cliffs and the Trois Becs peaks (Le Veyou, 1589m – Le Signal, 1559m, Roche Courbe 1545m) it is covered by a forest that has always been a refuge for mankind. An ideal place for hiking and mountain biking, the "Natura 2000" site also welcomes rock-climbing enthusiasts.
The market in Saillans
The Saillans market, typical of markets in the south of France, takes place every Sunday morning throughout the year, in the Place du Prieuré and Place de la République, around the magnificent Romanesque church of Saint-Géraud, built in the 13th century and listed as a historic monument.
When the weather's fine, the market extends into the Grande Rue and Rue du Faubourg du Temple, offering a wide variety of food and craft products, some of them from local producers.