Your rental pitch in the Drôme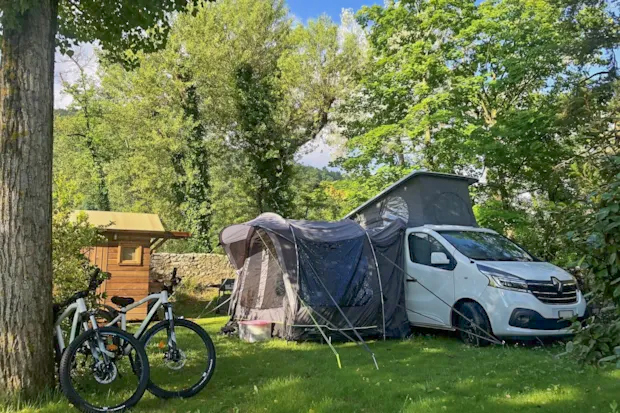 Premium XL camping pitch with private sanitary (1 vehicle + 1 tent or 1 caravan)
>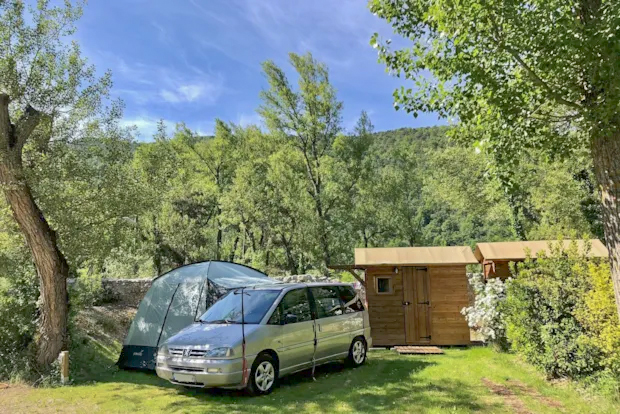 Premium camping pitch with private sanitary (1 vehicle + 1 tent or 1 caravan)
>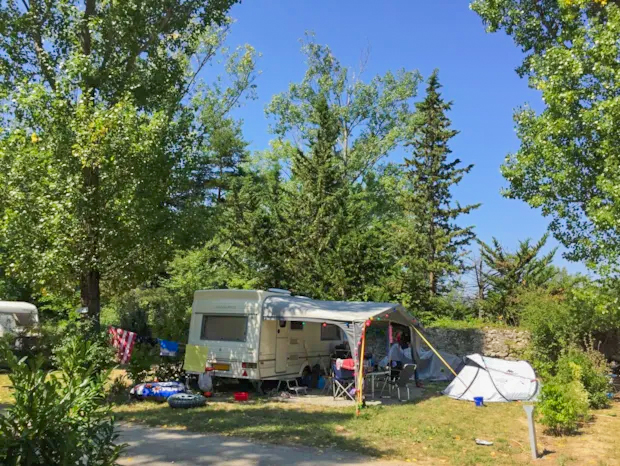 Camping pitch with electricity under the poplars (1 car + 1 tent or 1 caravan)
>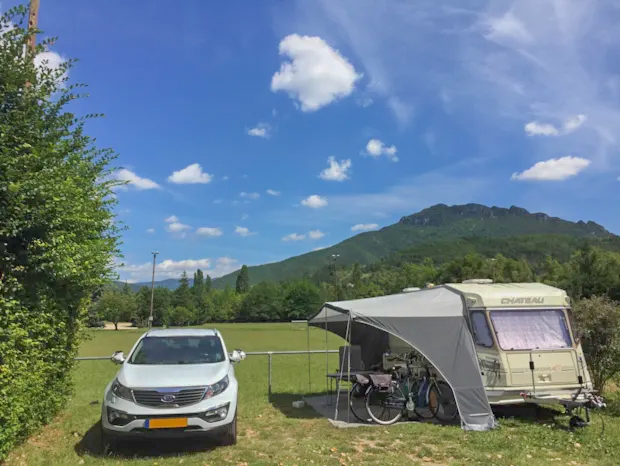 Camping pitch with electricity, view on mount Cresta (1 vehicle + 1 tent or 1 caravan)
>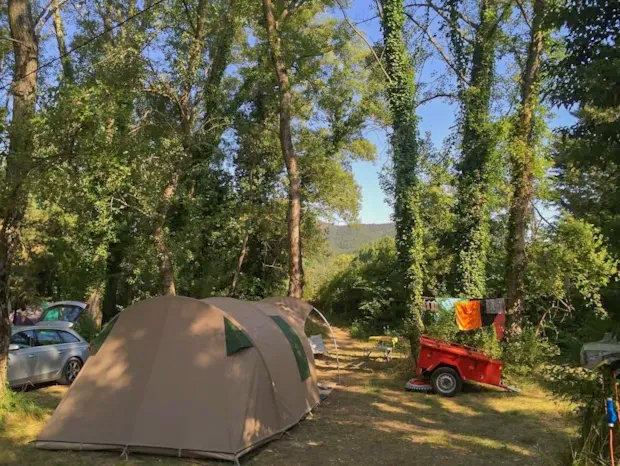 Camping pitch for tent with electricity, in the Ramière (1 vehicle <2m + 1 tent or 1 trailerten…
>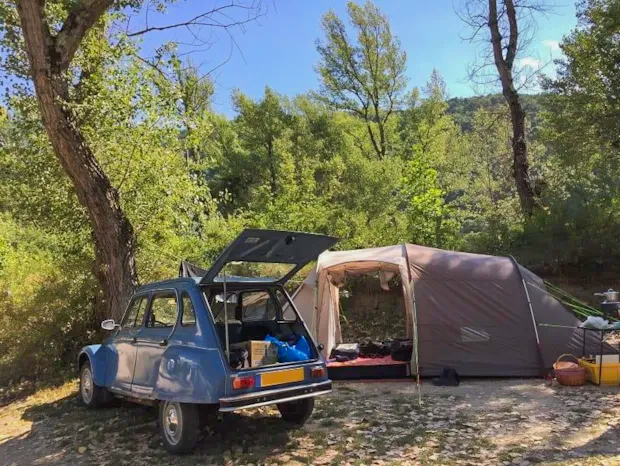 Camping pitch without electricity under the poplars (1 vehicle + 1 tent or 1 caravan)
>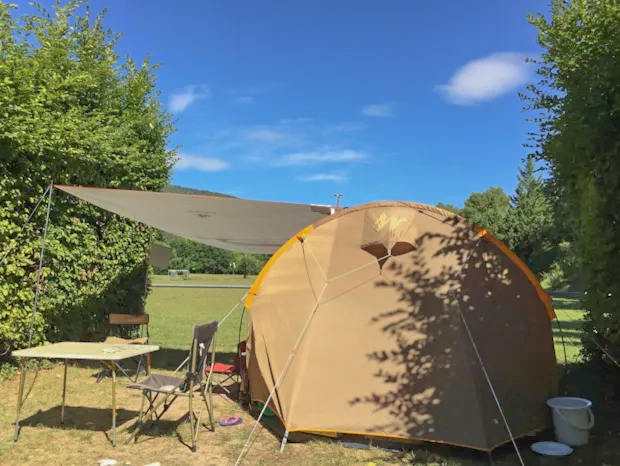 Camping pitch without electricity, view on mount Cresta (1 vehicle + 1 tent or 1 caravan)
>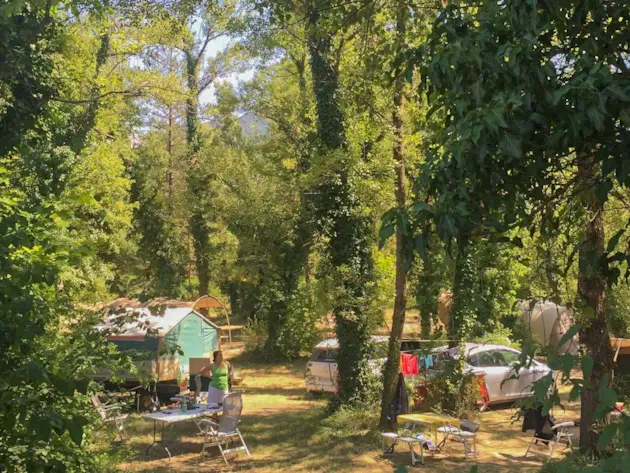 Camping pitch for tent without electricity, in the Ramière (1 vehicle <2m + 1 tent or 1 trailer…
>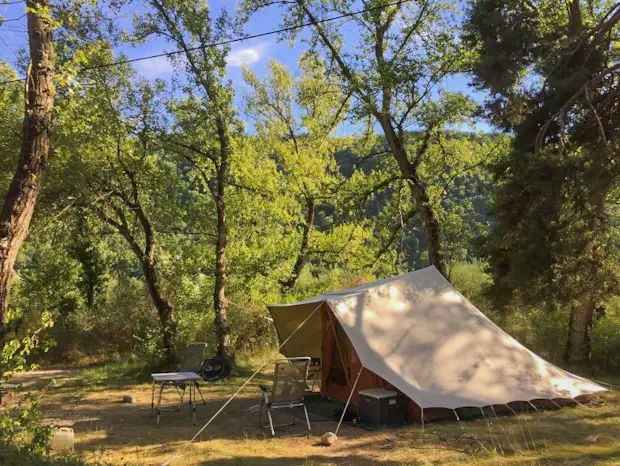 Camping pitch basic (1 tent)
>
Our pitch ranges: 3 atmospheres or the luxury of private sanitary facilities
With direct access to the River Drôme, we welcome you for your stay on camping pitches for tents or caravans, camper vans, vans or converted vans. Choose the area of your choice, or treat yourself to our Premium range with individual sanitary facilities for luxury camping!
View of Cresta
for motorhomes, caravans, vans, tents
Close to the bar, restaurant and sanitary facilities, this area runs alongside the soccer pitch and offers an unobstructed view of Mont Cresta. Facing east, you can enjoy the sun from the moment you wake up. In the evening, it disappears behind the poplars to provide shade before nightfall. The rental pitches are flat, bordered by hornbeam hedges.
Under the poplars
for motorhomes, caravans, vans, tents
Bordered to the west by a stone wall running alongside the Chapelains stream, this area is close to the bar, restaurant and sanitary facilities. The flat, grassy rental pitches are bordered by hedges, in the shade of poplars, or more exposed to the sun. Access to the Drôme river from Les Chapelains campsite is just a few steps away, by crossing the ramière.
In the chimney sweep
for tent, canvas folding caravan, van <2m high
This is the Provencal name for the coppices that line rivers. Closer to the banks of the Drôme and more peaceful, the ramière is separated from the upper part of the campsite by a grassy dike. It offers natural pitches, with or without electricity, in the shade of the pines and the many trees that adorn this area.

An ideal place to feel close to nature in a small corner of paradise. These rental pitches are accessible only to tents, canvas-covered folding caravans or converted vans less than 2 m high.
Premium pitch with private sanitary facilities
For your stay in a tent, caravan or motorhome, treat yourself to the luxury of individual sanitary facilities.
Located under Les Peupliers, Premium pitches are the ideal choice for an authentic camping vacation at the best value for money, with maximum comfort!
Your private bathroom is equipped with a toilet, shower, washbasin and external sink with hot water, accessible directly from your pitch. At the beginning and end of the season, when the nights are cooler, the private sanitary facilities are equipped with heating.
You keep control of hygiene. Because even if your neighbors are friendly, you don't have to share everything! On your pitch, you'll also have your own refrigerator and a large gas barbecue with grill and plancha.
Sanitary facilities: cleanliness and comfort
The sanitary building is modern and recent, with natural ventilation for improved hygiene. We follow a regular cleaning and disinfection protocol. Hot water is available free of charge. All our faucets are timed and equipped with water flow reducers. This means that water consumption is kept to a minimum in order to preserve this natural resource.
We make it a point of honor to provide you with clean, well-kept sanitary facilities and equipment adapted for maximum comfort:
4 women's WCs, 3 men's WCs with wall-mounted toilet, toilet paper dispenser and waste garbage can hatch
6 shower cubicles with undressing screen with shelf, towel rail, mirror
4 washbasin cubicles with electrical socket, mirror and waste garbage can hatch
8 outdoor washbasins with soap dispenser and mirror
6 stainless steel dish trays with drainer
2 laundry bins
1 chemical WC drainer
1 cabin with washing machine and freezer for your ice cream loaves
2 garbage can lids
For families with children, we offer :
-a family cabin with a washbasin and parent shower + a shower adapted to the child's size
-a baby cabin with bathtub, changing table and dustbin hatch

For people with reduced mobility (PRM), we offer a cabin with :
-shower with seat and bar
WC with wall-mounted bowl and bar, toilet paper dispenser and waste garbage can flap
-washbasin with electrical socket, mirror
A washing-up bin and a laundry bin are adapted for use by people with reduced mobility (PRM).

For even more comfort, discover our mobile homes for rent.